EXIT CASES OF OUR CONNECTIONS
Our current infrastructure covers more than 620 Kilometers by air between the state of Chihuahua and Coahuila. Our backbone has a capacity from 120 Mbps to 160 Mbps.
For the main considerations of our POP's we look for 4 objectives:
1. That the point has CFE
2. Ubications that have automobile access
3. Sufficient height
4. Zones with no social problems
Each POP has:
5. Solar energy and/or CFE
6. Reinforced cases
7. Batteries, inverters and chargers
8. TZ-35 or TZ-45 towers
9. Physical ground and in some cases lighting rods
ACTUAL INFRASTRUCTURE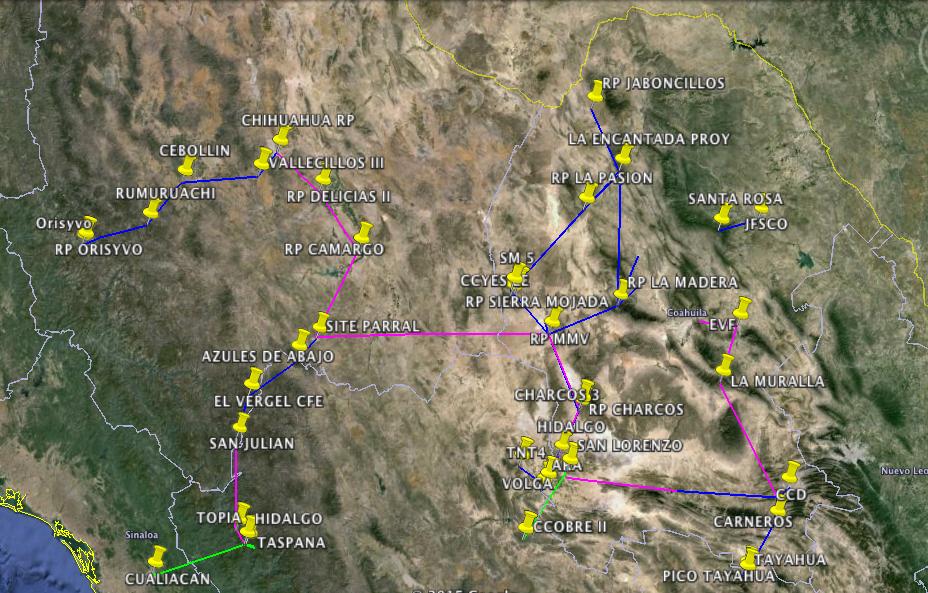 CURRENTLY ACTIVE BACKBONE
MEDIUM TERM BACKBONE (NEXT 2 TO 3 MONTHS)
LONG TERM BACKBONE (FROM 3 TO 6 MONTHS)
General plane of actual coverage in the states of Chihuahua, Durango and Coahuila.
MONITORING
We monitor all our backbone 24/7 with SMS alerting to the responsibles of each zone.